20-Pound Propane Tank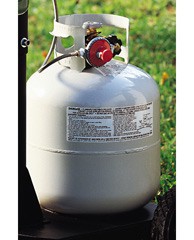 20-Pound Propane Tank links:
Main
In order to power many Mosquito traps, you need a propane tank. Most traps, such as the Mosquito Magnet, require you to use only a 20-pound tank. Using other sizes may cause unexpected problems and undesired performance. A 20-pound propane tank provides Mosquito Magnet traps with just the correct amount of pressure to ensure proper operation.
Buy

20-Pound Propane Tank

Now